Drum Heater 'Sahara Hot Box' Steam Powered Model S4
Part of Benko Products 'Sahara Hot Box' line of Steam Drum Ovens & Drum Heaters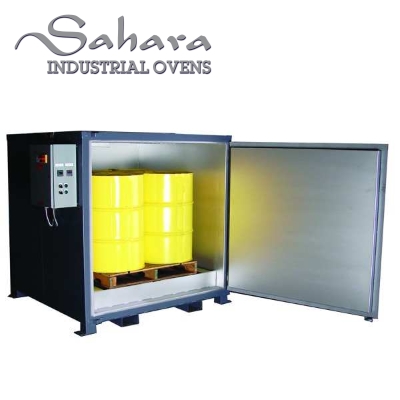 Model S4 Steam Drum Heater is Designed to Accommodate 4 (55 gallon) Drums or 1 Standard (275 gallon) Tote.
The Benko Products SAHARA HOT BOX is recognized as the industry leader in 55-gallon drum heating equipment. Our Steam Drum Heaters and Drum Ovens are available with state-of-the-art digital controls with independent over-temperature protection. Units in a manifolded arrangement can be individually turned off when not heating, perfect for your drum storage and drum heater needs.
Cost Effective • Innovative Designs

Model S4 Steam Drum Heater Specifications
Details
The Hot Box has many unique features:
• Rugged steel construction
• Portable; Just pick up with a forklift
• Built-in spill containment
• Zero-ground clearance available
• 2 Year Manufacturer's warranty
Capacity
• 4 drum (55 gal.)
• 1 Tote (275 gal.)
• 4,000 lbs total capacity
Materials of Construction
All steel construction includes:
• 12 gauge interior and 14 gauge exterior walls
• Integrated framing and structural members ensure toughness
• 304 stainless steel construction available
Dimensions
Interior:  59" W x 55.25" D x 47.5" H
Exterior:  66"W x 62"D x 66.75"H
Insulation
3" thick, 6# density mineral wool
Heating Medium
Steam, hot oil, or hot water
Heat Exchanger
• Finned tube heating coil rated for
saturated steam up to 200 psig.
• Recirculating coil available for hot oil or
hot water
Temperature Range
Room temperature to 350°F
Spill Containment Pan
55 gallon capacity
Finish
• Exterior finished with acrylic enamel.
• Interior finished with heat resistant silver.
• Stainless steel available.
Weight
2,050 lbs.
Installation
Shipped completely assembled.
Set in place and hook up power supply.
Custom Engineering
Custom engineered, computer designed
units are available. Contact us for more
information.
The Sahara Hot Box line of Steam Powered Drum Ovens offers highly durable designs, and can ship fully assembled.
Our Steam Drum Heaters provide the perfect way to safely heat and/or melt a wide range of ingredients or materials.
All Sahara Hot Boxes carry a 2 year warranty and are backed by years of fabrication experience and drum oven expertise.
We can custom design and build a drum oven to meet your facility's specific needs. Electric Drum Heaters are also available.
Contact a Benko Products Drum Oven Specialist Today!