Car Bottom Style Industrial Furnaces
RIFCO Industrial Heat Treat Furnaces
RIFCO Brand Car Bottom Style Industrial Furnaces can be found in many different plants serving many different industries. They can be found in;
Steel Mills for 2,450° F re-heating applications to high temperature heat treating applications.

Large Steel Fabricating Plants for weldment pre-heating to stress relieving.

Commercial & Captive Heat-Treating Facilities for any direct fired heat-treating process.
Our Car Bottom Industrial Furnaces can accommodate a very diverse range of load types, configurations, and materials. From single large metal ingots for forging or rolling to multiple weldments for stress relieving to pre-cast refractory shapes for bake-out.
Please contact us to learn more or if you'd like to speak with an Industrial Furnace consultant.
Operating Temperatures from as low 400° F to as high as 2,450° F

Load Sizes from 1,000 lbs. to 100,000+ lbs.

Numerous control configurations available to suit your requirements;

Full modulating type control

On-Ratio type control

Excess Air type control

Cascading impulse control to modulate from excess air to on-ratio control

Pulse Firing

Single to Multiple combustion/temperature control zones

And more

We build Industrial Furnaces to suit your needs!
Click Here to see the video.
Click to Get a Free Estimate or request more information.
Cost Effective • Innovative Designs

RIFCO Car Bottom Furnaces Offer Unmatched Flexibility Which Makes Them a Perfect Choice
for Operations That Require the Heating of Large or Odd Shaped
Pieces, or Multiple Configuration Batches
Car Bottom Furnaces are probably the most versatile furnace designs when considering "direct fired" type furnaces. Consider the Car Bottom design a Box Furnace design with a moveable hearth. The term "Car Bottom" refers to the style of the hearth (bottom) of the furnace where the workload is placed. The hearth in this case is built on a "car" frame fitted with wheels, which ride on tracks allowing it to roll out from the furnace proper into an open space allowing for maximum access to the workload space. Loading and/or unloading the furnace can be more easily be done without considering the constraints of the furnace walls or roof.
Although the Car Bottom design provides the opportunity to consider very deep Industrial Furnaces for very long workload items or many multiples of smaller workload items (RIFCO has built a 75' long furnace), it sometime makes sense when considering shallower depths as well. This might be the case when the workload is too heavy for a lift truck, but a higher capacity overhead crane can run directly over the furnace car when it is moved out of the furnace.
As noted above, the Car Bottom design could be considered a standard Box Type Furnace with a moveable hearth. However, when designed with a Guillotine style door, the Car Bottom Furnace can be used the same as you would the Box Furnace design. Just raise the door and DON'T pull out the car. Note- a furnace car fitted with a "Bulkhead" style door does not offer this advantage.
2,100° F degree operation.
Natural Gas Powered

High Velocity Burners fired over & under the workload.

Patented Mega Block™ Ceramic Fiber Lining

12" HTZ - 12 PCF on a steel plate casing.

Swing-up door design.
Powered furnace car.
Car Bottom Heat Treat Furnace
2,100° F degree operation.

Natural Gas Powered

High Velocity Burners fired over & under the workload

Cascading Bled Impulse combustion control.

Two (2) temperature control zones.

Patented Mega Block™ Ceramic Fiber Lining

12" HTZ - 12 PCF on an expanded metal casing.

Bulkhead style door design.

Powered furnace car.

In-Wall Flues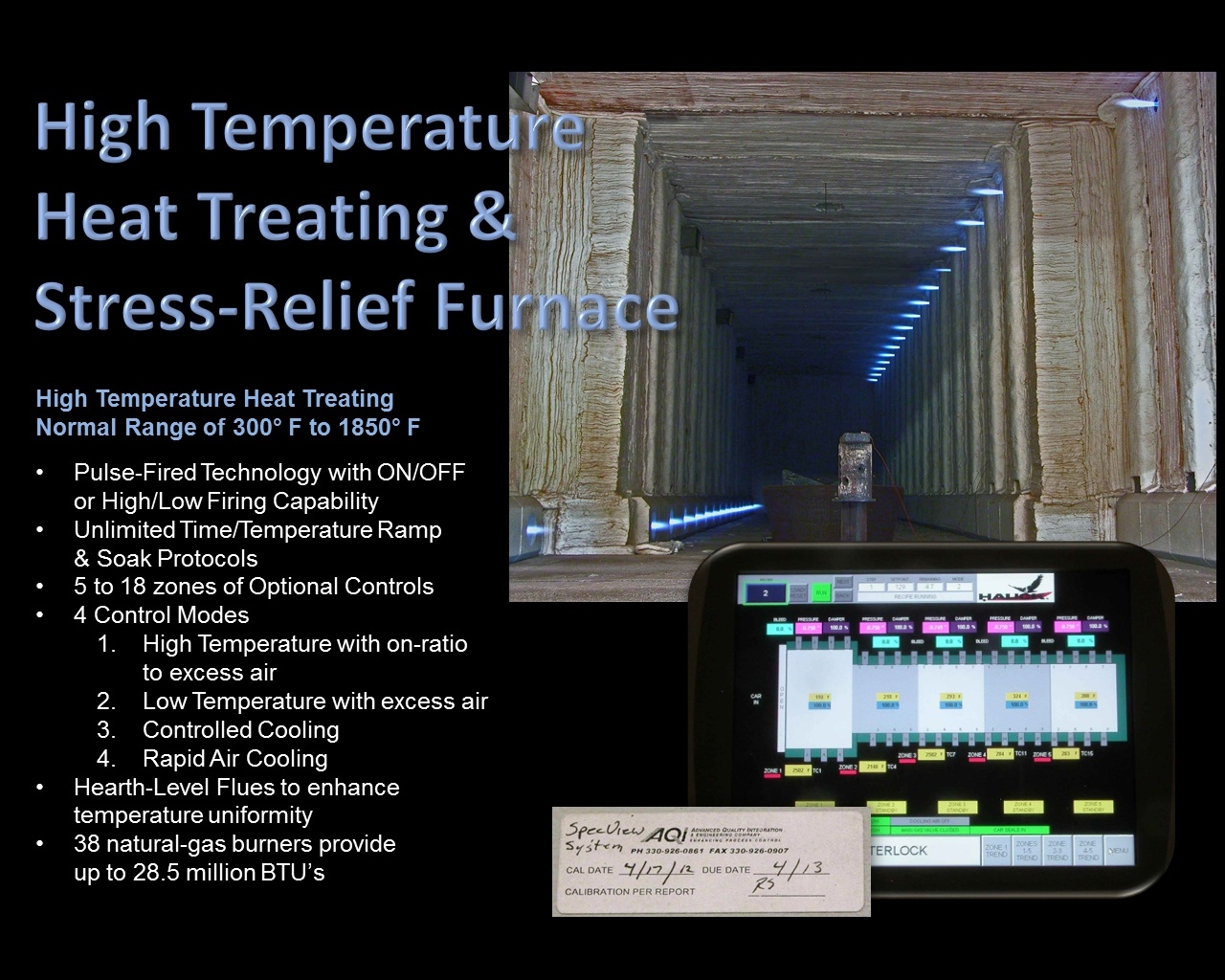 Car Bottom Furnace - Quote Request / Contact Form
Complete the form below and one of our furnace specialists will get back to
you shortly to discuss your application and gather any additional details we may need.